Back
Borovets Slopestyle'2013
25/02/2013
On March 2nd (Saturday) Snow Park Borosport shall host another exciting freestyle race - Borovets Slopestyle'2013 Ski&Snowboard. Candidates in the following age ranges can qualify: preparatory (girls and boys), children (girls and boys), men and women of over 15 years of age. Senior contestants will need to prove their abilities on the Slopestyle trail (L line) of Snow Park Borosport, children groups will start from the"L line", but will also be allowed to use the "S Line", changing fully the line of their run.

The application procedure for Borovets Slopestyle'2013 is underway. Everyone who wants to take part must fill in this registration form. Submission deadline - Friday, March 1st, 2013.

The race is organized by Borosport and the prizes - vouchers for a total BGN4000 - shall be provided by the general sponsor of Borovets Slopestyle'2013 - Contrabanda outlets.

Race schedule
Training: 10:00AM - 11:30AM
Qualification: 11:30 AM - 02:00 PM
Awarding ceremony children: 02:00 PM - 02:30 PM
Finals: 02:30 PM
Awarding ceremony: 03:30 PM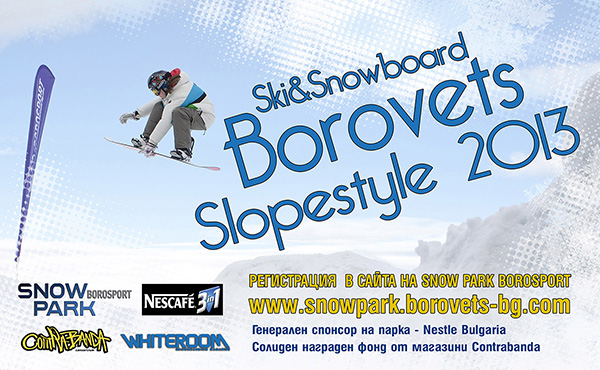 Register!